Hey there Prom Mafia! My name is The It Girl and I'm the newest blogger on the block! I like to write, sing, read, have movie marathons and shop! Typical teenaged-girl stuff, I know.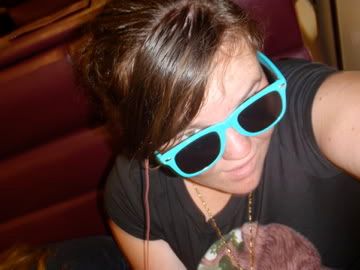 I'm left-handed and right-footed. I go to polo matches practically every Saturday during the summer. I go to an all-girls Catholic school, making my existence void of boys and full of green plaid. I drink tea a lot and I love British chocolate. My favorite stores are Delia's and Target. My favorite actress is Kirsten Dunst and my favorite actor is Heath Ledger (I cried when he died). I want a Weimeraner dog when I get older and a penthouse in Manhattan.
But to get to know me better, here are some of my favorite things:
Movies: The Virgin Suicides, Titanic, Spice World, Slumdog Millionaire, Lords of Dogtown, 10 Things I Hate About You, Marie Antoinette, Saved, Driving Lessons, Across the Universe, Holes, Dick, Little Miss Sunshine, Grind, Casanova, The Life Aquatic with Steve Zissou, The Darjeeling Limited, Garden State, The Phantom of the Opera, Eternal Sunshine of the Spotless Mind, and Clueless.
TV Shows: 30 Rock, Gossip Girl, Arrested Development, Ugly Betty, The OC, The Office, Sonny With a Chance, Pushing Daisies, America's Next Top Model, Project Runway, Saturday Night Live, The Tyra Banks Show, Privileged, Hannah Montana, Sailor Moon, This American Life, Cash Cab, H2O, and Important Things with Demetri Martin.
Books: The Virgin Suicides by Jeffery Eugenides, Go Ask Alice by Anonymous, A Tale of Two Cities by Charles Dickens, Q&A by Vikas Swarup, Confessions of a Shopoholic series by Sophie Kinsella, The It Girl series by Cecily von Ziegesar, It's Kind of a Funny Story by Ned Vizzini, I Was Told There'd Be Cake by Sloane Crosley, Marley and Me by John Grogan, Twilight series by Stephenie Meyer, Can You Keep a Secret? by Sophie Kinsella, Sloppy Firsts series by Megan McCafferty, Breakfast at Tiffany's by Truman Capote, Stuff White People Like by Christian Lander, Pretty Little Mistakes by Heather McElhatton, and Bringing Down the House by Ben Mezrich.
Music: The Ting Tings, Vampire Weekend, The Killers, The Wombats, Britney Spears, Madonna, Santogold, Hot Chip, The Kooks, Lady Sovereign, She & Him, The Yeah Yeah Yeahs, Jonas Brothers, Lady GaGa, M.I.A., Spice Girls, Hole, Courtney Love, Yelle, Robots in Disguise, Lily Allen, Hannah Montana, Amy Winehouse, and Ladyhawke.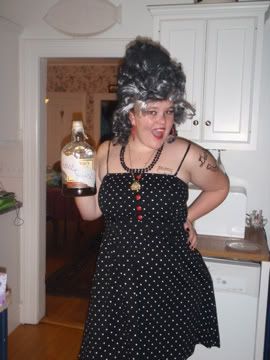 (This is me dressed as Amy Winehouse for Halloween!)
Color: Yellow and pink.
Food: Tuna sandwiches from my school's cafeteria.
Now that you know me, I'd like to get to know you guys!
What are some cool facts about you?
Recent posts in Music