Thanksgiving has just passed, and while our tummies are undoubtedly stuffed with delicious food that our mom's make, it's safe to say that our bellies are probably a lot bigger than the usual. Of course, there is absolutely no problem with that, but sometimes we need a post Thanksgiving outfit to rely on, right? Here is my ultimate post Thanksgiving outfit that will keep me feeling confident in my overstuffed skin, while making sure that my fashion is obviously still top notch. These are essentials that will make you feel fabulous as you trek through your high school hallways for the rest of the week.
SWEATER DRESS

Is it weird that I adore sweater dresses more in the winter time, than I do in the summer? I think it's weird, but maybe I'm just weird. Wait. What? Sweater dresses are super chic and are too scandalous for school! Although they are a dress, the whole sweater aspect to them keeps you cozy and warm throughout the winter season. Plus, they have that cute and cuddly attire to them, which makes me want to snuggle in my sweater dresses all day. With a few switches, they can be taken from day to night, high school to home. They truly are remarkable! You should certainly rock one of these for your post Thanksgiving outfit. Plus, you can get looser fits that still look super fabulous!
CONTROL TOP

Okay, I know that I have written about control top tights before, but seriously, these things are so astounding that I honestly couldn't leave them out of my post thanksgiving outfit. These beautiful things are essential for everyday attires, but honestly, if you stuffed yourself with Turkey like I did for this thanksgiving, you'll be exceedingly happy to have a snugger fit in certain areas. Now, ladies – you should totally be loving your wondrous curves, but as a teenager, I can totally appreciate the need to want to hide that extra few turkey pounds that you achieved over the Thanksgiving holiday. It happens to the best of us, right? At least we all know that we enjoyed excellent food! Get some control top tights and pair them with anything that you want, whether it be a tunic or sweater dress, or if you're wearing them under a skirt or even under a pair of denim! They suck you in comfortably when you're feeling a little uneasy, post Thanksgiving.
PULL IT BELTS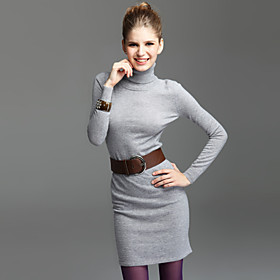 I totally made up that name. I certainly don't think that there is such a thing as a "pull it" belt, but let's just go with it, okay? A post Thanksgiving outfit definitely needs a little skinny belt to tuck you in, because although you may be feeling totally bloated from all the delicious food that you had, you still want to accentuate your natural feminine body, right? With this outfit, since a lose sweater dress is the perfect option for a post Thanksgiving outfit, in my opinion, I surely think it's a necessity to have a little skinny belt to tuck you in at your waist. It won't leave your body looking frumpy but rather fashionably feminine. Sounds pretty fabulous to me!

Let's be honest here for a second, high school can be tough, especially if you are feeling on the bloated side. Us teenage girls have so many media outlets telling us that we have to be skinny and beautiful, blonde and white, or whatever the case may be. It's truly stupid, isn't it? Now you have this post Thanksgiving outfit that is my absolute favourite for days when I'm feeling a little on the bloated side. Top this outfit off with a great pair of boots, booties or flats and you'll be looking more fabulous than you could have ever imagined! Happy Thanksgiving ladies!
Recent posts in Tips and Advice